Choose Ranger by KOTT for your pallets and custom crates.
We've joined forces with Ranger Enterprises to offer the industry's highest quality crates and pallets, at quantities that can scale up to meet your seasonal or growth requirements.
Experience in manufacturing and distribution meets expertise in crating and packaging.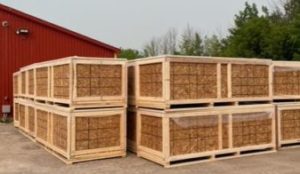 Ranger has been building custom crates and pallets since 1992. It's their only focus, and over the years they've learned a lot about what works best to package your goods for secure and damage-free delivery to their destination.
KOTT Inc. has been manufacturing and distributing wood products for the construction industry since 1974. Our purchasing power, experience, large workforce, and manufacturing capacity drive our 'on time, in full' customer promise.
No matter what you're shipping or where it's going, we've got you covered.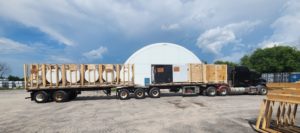 Ranger by KOTT's Heat Treated program means our pallets and crates can be exported to any country around the world. We're certified and registered with the Canadian Wood Pallet & Container Association for the production and export of wood packaging that meets the requirements of ISPM 15.
We know how to make crates that are waterproof, stackable and resistant to the weather, and we are well-familiar with building containers to NEAS Packaging Guidelines for Sealift.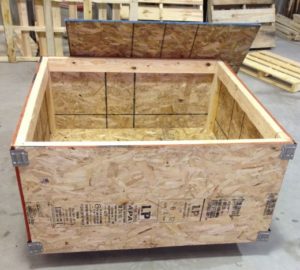 We know how to protect your fragile cargo – and we pay just as much attention to the interior of your container as we do to the exterior – adding just the right amount of material to fix, block and prevent any shift in your goods during transit.
Crates
Our crates are always customized to your requirements, based on size, weight, destination and method of shipping.
We'll start with a needs analysis, then provide you a design and quote.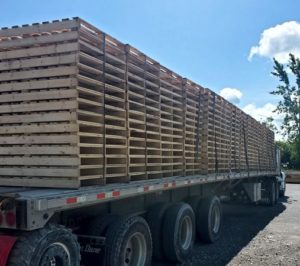 Pallets
Pallets can be designed to any size, and material selection is based on the weight of the goods, and whether they need to be Heat Treated for export.
We have a pallet recycling program – we will pick up and recycle any used pallets that are 40"x48".
Reduced Waste
Our manufacturing process is 98% waste free. We re-use our scrap cuts for dunnage and blocking inside our containers. The smallest pieces that are not suitable for packaging, are used to heat our Shop, or made into shavings for animal bedding.
Reliability & Service
We've built redundancy and reliability into our operation by establishing three separate manufacturing locations. If something happens on our end, your project build can be shifted to another of our locations to be completed on schedule.
Your deadlines are our deadlines. We understand the constraints that come with international shipping and we will work around the clock to make sure your containers are ready when promised.
Our Workmanship promise
Put simply: We'll make it right. If you have a problem, let us know and we will fix it. That's been our way of doing business for over 30 years.