We do siding for new home construction and multi-unit cladding replacement projects.
KOTT Inc. provides Home Builders, Consulting Engineers, Property Managers and Condo Boards with a one-stop shop for siding and exterior cladding system projects.
Why add KOTT Inc. to your tender list for siding?
Reliable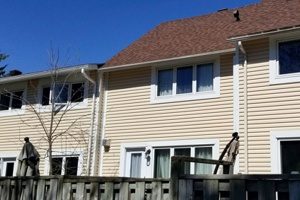 Our Installed Services team has been siding Ottawa homes for more than 40 years. We have the manpower, the fleet, the equipment and tools to get the job done.
One-stop shop
We have expertise with a wide variety of siding systems, including vinyl, steel, fibre cement, wood composite and wood panel siding.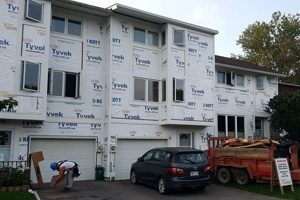 We are a Certified Installer of DuPont™ Tyvek® HomeWrap® .
For exterior renovations, we are trained and experienced in Asbestos Type 2 operations and stucco abatement.
When we remove the existing cladding we'll let you know if there are issues with your exterior walls or insulation –and can repair any damage before installing the new cladding system.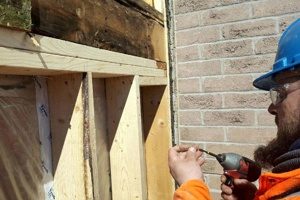 We'll include and oversee the work of related trades required for complete finishing – like electrical and mechanical contractors, or painters.
A focus on our workmanship
We work with leading product manufacturers and back up their product warranties with our own workmanship warranty.
A focus on Safety
When the KOTT team is on your site you're covered against liability. Our installers are insured, bondable and covered by WSIB.
We take Occupational Health & Safety very seriously. We have a full-time Health & Safety Coordinator, 100% dedicated to defining, communicating and enforcing the KOTT Health & Safety program. Working with the Installation Supervisors, the Health & Safety Coordinator helps make sure everyone working on your job site is trained, and is following all Ontario Health & Safety Regulations.
A professional support team
Our Sales team, Project Managers and Installation Supervisors are supported by a team of in-house Estimators and Designers, a full-time Health & Safety Coordinator, and Finance and Administration professionals who can help with any scheduling, after sales service or billing issues.
A proven track record
Check out our excellent rating on the Better Business Bureau. We're not a startup or fly-by-night company – we've been in the home exteriors business for over 40 years .
See Before & After pictures from several multi-unit cladding replacement projects.